Direct deposit of your income tax refund
---
Direct deposit is the easiest, fastest way to get your refund. Combine e-file with direct deposit to:
receive your refund faster
reduce trips to the bank
get peace of mind—no lost or undeliverable checks
Set up direct deposit (see sample check below)
Enter your bank's nine-digit routing number on the return you're filing. You can find your checking account routing number on a check. Your bank can provide your savings account routing number. If you use an online banking application, you should find the information you need in your mobile banking app.
Enter your bank account number on the return you're filing (up to 17 characters). Don't include your check number.
Your savings account number is available on your pre-printed deposit slips, your passbook, or other bank records.
Notifications
If you create an Online Services account and sign up to receive email notifications, we'll send you an email notifying you when we issue your refund.
If you're signed up for email notifications and requested a direct deposit that can't be deposited in your account, we'll send you an email when the paper check has been issued.
Sample check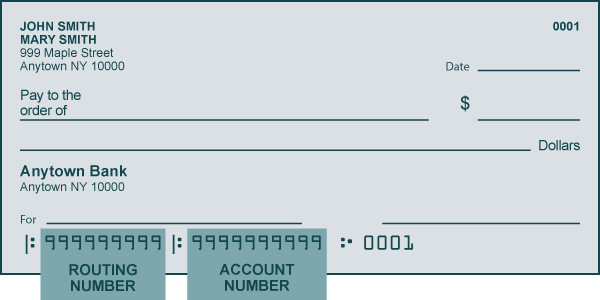 Issues with direct deposit?
If you chose to receive your refund by direct deposit and:
it's been more than 15 days since your direct deposit issue date and you haven't received it yet, see Direct deposit troubleshooting tips.
you have changed banks, closed your bank account, or originally submitted incorrect ACH information, we will not be able to deposit your refund, instead we will issue your refund as a check. 
Subscribe
Sign up to receive Tax Tips for Individuals.
Updated: