Overview of the assessment roll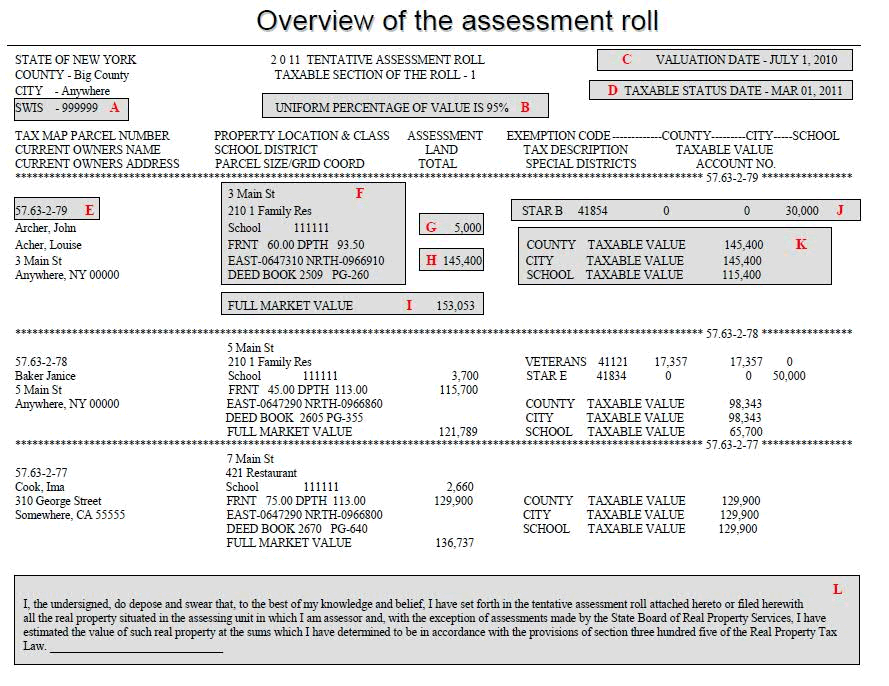 100's = agricultural
400's = commercial
700's = industrial
200's = residential
500's = recreation/entertainment
800's = public services
300's = vacant
600's = community service
900's = wild/forested/conservation lands/public parks
School District: The parcel's school district and school district code.
Parcel Size: The parcel's frontal and depth dimensions.
Grid Coordinates: The parcel's identification by geographical coordinates, used for mapping purposes.
Deed Book: The volume number of the book (liber) and page number where deeds are recorded.
G Land Assessment: The assessed value of the land without the addition of improvements (permanent structures). By law, only the total assessment (H) may be reviewed (or grieved).
H Total Assessment: The total assessed value of the property, including the land and improvements.
I Full Market Value: What a willing buyer would pay a willing seller under normal circumstances. This should approximate the dollar amount for which the property could be sold. In places where the uniform percent of market value is 100%, this is the same as the assessed value; otherwise market value multiplied by the uniform percentage of value (B) will be the total assessed value (H).
J Exemption: The name of the exemption and the exemption code (in this case Basic STAR 41854), followed by the amount of the exemption for each taxing jurisdiction (i.e., STAR B is the Basic STAR exemption and applies only to school tax, thus the taxable value of the exemption for county and city is zero).
K Tax Description: Taxing jurisdictions include counties, cities, towns, school districts, villages and special districts (fire, sewer, water, etc.)

Taxable Value: The value, after exemptions are applied, upon which your tax bill will be calculated (H minus J = K). In this case, the school taxable value is different from the others due to the STAR exemption.
L Assessor's Oath: This is only listed on the last page of the roll. The assessor signs the roll to indicate that all assessments are uniform at the stated percentage of market value.
Updated: