General
Many returns
The Tax Department processed 28.8 million returns in 2022, nearly half of which were personal income tax returns.
Tax credits
The Tax Department administers more than 80 different tax credits worth more than $4 billion annually.
Audits and enforcement
Cases closed
The Tax Department's Audit Division performs diverse audit, compliance, and enforcement activities involving personal income tax, corporation tax, sales and transaction taxes, and more than 20 miscellaneous taxes. The number of cases closed increased by 52% in 2022.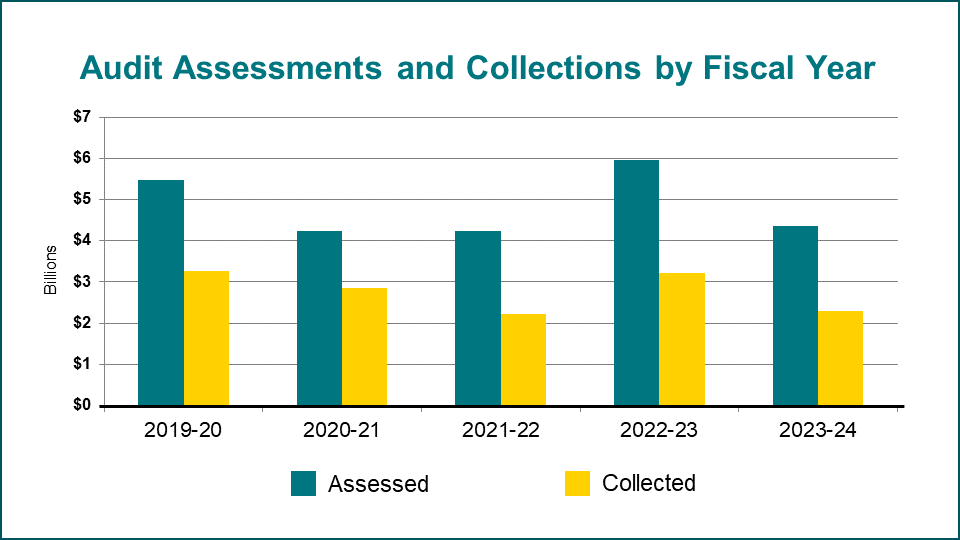 Civil enforcement collections
Tax revenue collected by the Civil Enforcement Division (CED) has trended up, with the exception of 2021 when the Tax Department suspended active collections for most of the fiscal year because of COVID-19.
Installment payment agreements
Taxpayers who can't pay their tax balance by the due date can request an installment payment agreement (IPA) online. An IPA enables qualifying taxpayers to make scheduled, monthly payments for up to 36 months. More taxpayers than ever took advantage of this service in 2022.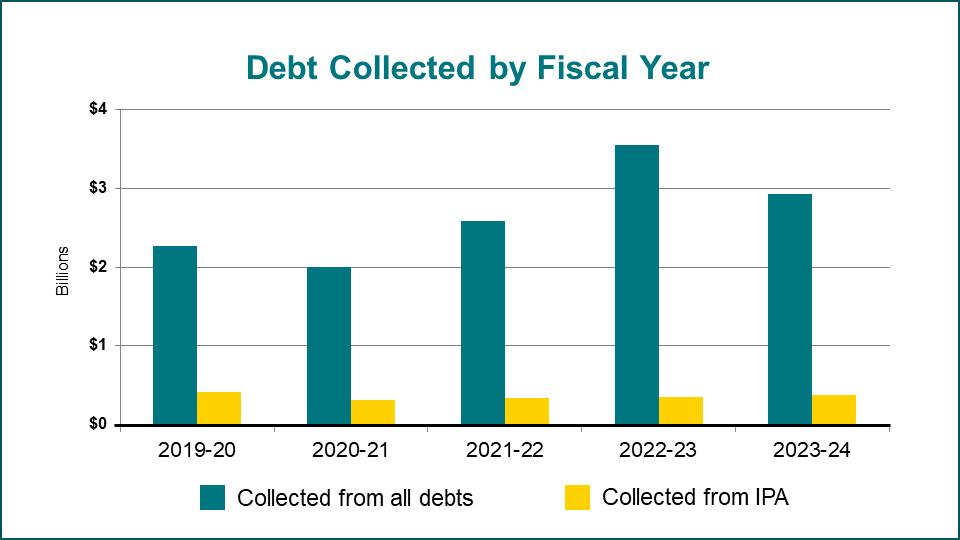 Cigarette inspections
The Tax Department's Criminal Investigations Division conducted nearly 5,000 regulatory cigarette inspections since 2019. Almost 40% of inspected retailers were noncompliant, resulting in the seizure of more than 23,000 cartons of illegal cigarettes.
Increasing online services
More than 6.1 million state taxpayers now have Online Services accounts with the Tax Department. These filers can make payments, check their refund statuses, respond to department notices, and communicate directly with the department for many purposes.
Tax registration
The Tax Department registers thousands of vendors to sell taxable products and services every year.
Registered taxpayers by registration type

| Tax registration type | Active taxpayers |
| --- | --- |
| Sales tax Certificate of Authority | 558,895 |
| Cigarette tax Certificate of Registration (only)—retailer | 5,459 |
| Vapor tax Certificate of Registration (only)—retailer (began November 2019) | 426 |
| Cigarette or tobacco and vapor taxes Certificate of Registration (both)—retailer | 7,545 |
| Highway use tax (HUT) and automotive fuel carrier (AFC) | 121,422 |
| International Fuel Tax Agreement (IFTA) | 9,079 |
| Petroleum business tax | 1,523 |
| Alcohol beverage tax | 3,239 |
| Tobacco distributors and wholesalers | 325 |
| Cigarette agents and wholesalers | 163 |
| Cigarette chain stores | 1,101 |
Modernizing correspondence
The Tax Department is reducing mail correspondence, including offering 131 notices electronically and sending email reminders to taxpayers who do business electronically with the department.
More Web traffic
In 2022, www.tax.ny.gov had nearly 90 million pageviews, with a high of 1.2 million on April 18, 2022.
Language access
The Tax Department's call center answers more than 1.9 million calls each year, many from taxpayers who speak languages other than English. The department contracts with a translation vendor to expand the call center's ability to assist callers in many languages.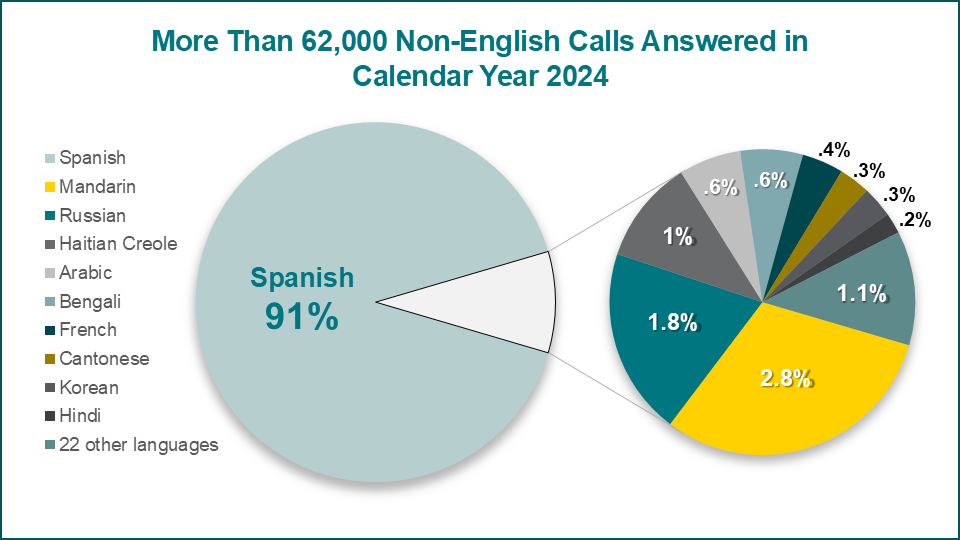 Updated: