About the Commissioner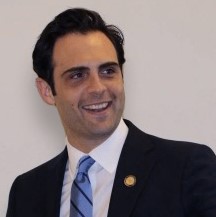 Michael R. Schmidt

Commissioner of the New York State Department of Taxation and Finance

Michael R. Schmidt is the Commissioner of the New York State Department of Taxation and Finance. He was nominated by Governor Andrew M. Cuomo on January 6, 2019, and confirmed by the New York State Senate on June 20, 2019.

With over 3,700 employees, the department's mission is to efficiently collect tax revenues in support of state services and programs while acting with integrity and fairness in the administration of the tax laws of New York State. To that end, the department promulgates tax regulations; publishes forms, instructions, and guidance; engages in taxpayer outreach and education; processes tax returns; resolves taxpayer errors and protests; conducts audits; engages in civil and criminal enforcement activities; litigates tax disputes; and manages the state treasury.

Prior to his appointment as Commissioner, Mr. Schmidt served as Senior Economic Advisor to the Governor, overseeing key economic policy initiatives for New York State. In this role, he helped spearhead the State's response to the federal tax law enacted in 2017, leading a team of public servants that was awarded the State Academy for Public Administration Public Service Excellence Award for its efforts. He joined New York State government in 2017 as Deputy Secretary for Economic Development, where he oversaw policy and operations for 12 state agencies and authorities, including the Department of Taxation and Finance, Empire State Development, the Division of Homes and Community Renewal, and the Department of State.

Mr. Schmidt previously served as an economic policy advisor to Secretary Hillary Clinton, in which capacity he worked on a range of economic policy issues; a policy analyst in the Office of Domestic Finance at the U.S. Department of the Treasury, where he helped reform U.S. financial regulation in the wake of the 2008 financial crisis; and a senior financial analyst at the Yale Investments Office. A lifelong New Yorker, Mr. Schmidt earned a Bachelor of Arts in History from Yale University and a Juris Doctor from Yale Law School, where he served as an Articles Editor on the Yale Law Journal.
Message from

Commissioner Schmidt

This website is a resource for you. Here you'll find information on just about every topic that's relevant to filing taxes in New York State. If you can't find what you're looking for—just let us know—and we'll gladly point you in the right direction. Contact our Call Center for immediate assistance or leave us feedback below.

- Michael R. Schmidt
Hear from the

Commissioner
Share your

Thoughts
How was your experience interacting with the Tax Department?

Tell us what you think. We welcome your feedback about:

Online Services and tools
Call Center customer service
Taxpayer experience
Improvement opportunities

 

 
Updated: