Your rights as a taxpayer
We have an important obligation to help you understand your rights and responsibilities as we seek to fairly administer and collect taxes.
As required by the state's Taxpayer Bill of Rights, we explain your rights at each step in the process to carry out our vital tasks. We also describe the actions we must take to ensure that all pay what they owe.
An overview of your right to:
Your rights during:
More resources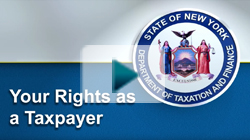 Updated: