Wireless Communications Surcharge media center
Changes to the Tax Law that took effect December 1, 2017, impose a state surcharge on the retail sale of prepaid wireless communications services. This amendment expands the current surcharge imposed on postpaid wireless services. Counties and New York City also have the option to impose these surcharges. 
Help us spread the word. We encourage you to use the newsletter and website content; widgets; and links to additional resources to make sure your audience is aware of the new surcharge and its filing requirements. 
---
Newsletter and website content
Effective December 1, 2017, anyone who sells prepaid wireless communications services must collect a prepaid wireless communications surcharge and file quarterly returns with the Tax Department.  The first return is due March 20, 2018.
Prepaid wireless communications services include:
mobile phones or mobile phone cards (including refill or recharge authorization codes) preloaded with a set dollar amount or number of minutes, and
reloads of mobile phones or mobile phone cards with additional minutes.
Any prepaid phone card that can be used on a mobile phone to make or receive calls is a prepaid wireless communications service. For example, long distance or international calling cards that can be used on both landlines and mobile phones are subject to the surcharge.
Surcharge
Each seller must separately identify the surcharge as the public safety communications surcharge on any receipt or other statement of price provided to the customer.  If space limitations on a receipt do not allow the seller to identify the surcharge as the public safety communications surcharge, then, in those limited circumstances, it would be sufficient for the seller to use PSCS as an alternative to identify the surcharge. 
For rate information, see Publication 452, Wireless Communications Surcharge Rates on Prepaid Wireless Communications Services.
Filing requirements
Each seller must Web File Form WCS-2-PRE, Prepaid Wireless Communications Surcharge Return, every quarter even if no surcharge is due. Quarterly reporting periods are:
March 1 through May 31;
June 1 through August 31;
September 1 through November 30; and
December 1 through February 28 (February 29 if leap year).
Each return is due the 20th day of the month following the close of the reporting period. If the due date falls on a Saturday, Sunday, or a legal holiday, the return is due on the next business day.
Exemptions
For a full list of exemptions, see our Prepaid wireless communications seller webpage, or visit us at www.tax.ny.gov (search: prepaid wireless)
Administrative fee
Prepaid wireless communications sellers are entitled to retain a percentage of collections as an administrative fee as follows:
1.749% of the total New York State surcharge collected.
3% of the total local surcharge collected.
If sellers do not timely file and fully pay the surcharge due with their return, they are not entitled to retain the administrative fee. 
---
Additional links
---
Widgets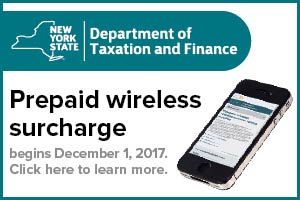 ---
Subscribe for email alerts
To receive automatic email updates, subscribe to our Wireless Communications Surcharges email list.
Updated: