Aid for Cyclical Reassessments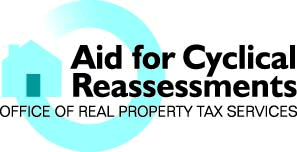 Established in 2010, Aid for Cyclical Reassessments replaces the previous Annual Aid and Triennial Aid programs. The program encourages localities to protect their initial investments in quality assessment rolls. To be eligible, assessing units must commit to conducting reappraisals of all property at least once every four years. Up to $5 per parcel is available in the year of a full reappraisal.
General Information
Summary - two-page overview
Slideshow - includes summary information, as well as additional examples and details regarding inventory collection, reappraisal and reassessment plans 
Program Details
Application Documents
Plan for Cyclical Reassessments - RP-1573-ACR-P (please contact regional staff if you require a Word version)
Application for Cyclical Reassessments - RP-1573-ACR-A
For questions specific to your community, contact your ORPTS Customer Relationship Manager.
Updated: