RP-5217 Request Form
NOT for New York City Transfers!
RP-5217-NYC information available
New RP-5217-PDF form is downloadable and is being accepted in all counties across the State except Herkimer County.  In some counties the RP-5217-PDF is required.  Please check with your County Recording Officer regarding their requirements if you plan to use RP-5217 four part form.
RP-5217 Online Order Form
You must complete all required fields and submit the order form.
The requested quantity of RP-5217 forms will be mailed to the address you provide.

The RP-5217 form is not available for download or direct printing off the internet. The RP-5217 form is a four (4) part legal document printed on carbonless bond paper.
RP-5217 Instructions

RP- 5217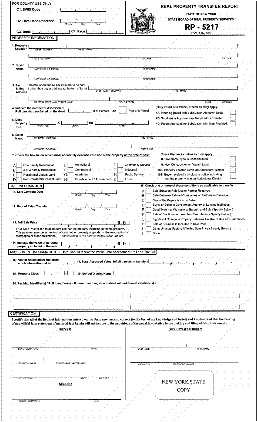 If you have any questions or want more information contact the Solutions Center at (518) 591-5233.
Updated: