More Than 800 Cartons of Illicit Cigarettes, $63,500 in Cash, and Vehicles Seized on Staten Island
Tax Department investigators execute multiple search warrants and charge three with multiple felonies
For Release: Immediate,
For press inquiries only, contact: James Gazzale, 518-457-7377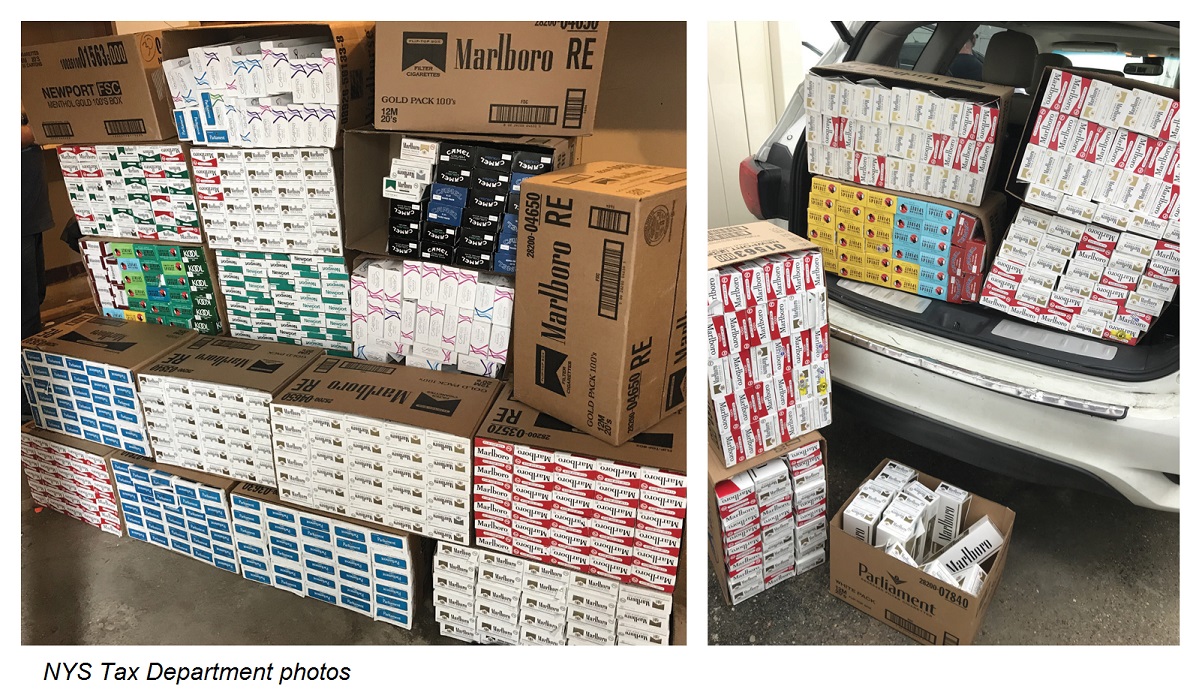 The New York State Department of Taxation and Finance, along with U.S. Department of Homeland Security Investigations—Newark Office and the Richmond County District Attorney's Office, today announced felony charges against three Staten Island residents after executing seven search warrants on October 8.
Investigators searched a home and detached garage at 106 Catherine Street, four vehicles, and a safety deposit box at a nearby bank.
In all, investigators seized 814 cartons of untaxed cigarettes, $63,525 in cash, four vehicles, and various documents, computers, and phones.
They charged 43-year-old Fathy D. Seidi, 35-year-old Hashed D. Alsaidi, and 20-year-old Amjad F. Alseidi with multiple felonies, including possession of more than 30,000 untaxed cigarettes and attempt to evade the New York State cigarette and tobacco products tax. In addition to the criminal charges, the defendants face fines of up to $600 per carton seized.
"Those who evade their taxes deprive communities and the state of revenue for vital services and put honest businesses at a competitive disadvantage," said New York State Commissioner of Taxation and Finance Michael Schmidt. "Our Criminal Investigations Division and partners in law enforcement will continue to bring these tax criminals to justice."
"Part of our securing of our borders and a primary mission of Homeland Security Investigations is to stop the distribution and sale of contraband items, which undermine our legitimate economy," said Brian Michael, Special Agent in Charge, Homeland Security Investigations, Newark. "In whatever form the contraband may be, whether it's untaxed cigarettes, illegal drugs, vehicles, or counterfeit goods, Homeland Security Investigations remains committed to stopping the flow of these items, in cooperation with other law enforcement agencies."
District Attorney Michael E. McMahon said, "Possessing illegal cigarettes is a serious crime which cheats the public out of critical tax revenue, and the prosecutors in my office's Economic Crimes Bureau work tirelessly to hold such offenders accountable. I'm very proud of the work that was done by my team on this case to get this illegal contraband and cash off the street.  We will continue our important partnership with the New York State Department of Taxation and Finance to ensure Staten Islanders are not deprived of valuable state resources and services."
The Richmond County District Attorney's Office is prosecuting this case. A criminal complaint is only an accusation; the defendant is presumed innocent until proven guilty.
Report fraud
You can report tax evasion and fraud online at the Tax Department's website or by phone at 518-457-0578. The information is kept confidential. The Tax Department promptly reviews each complaint and takes corrective action when appropriate.
###
Updated: