U.S. Department of Justice Presents Excellence Award to Tax Department Investigator for Work on $780,000 Fraud and Money Laundering Case
Tribute follows sentencing of tax preparer for scamming clients
For Release: Immediate,
For press inquiries only, contact: James Gazzale, 518-457-7377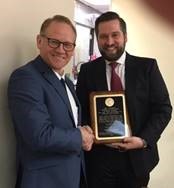 Internal Affairs Investigator Jack Patterson (right) and Assistant United States Attorney Jarrod Schaeffer (left)
The New York State Department of Taxation and Finance today announced that one of its investigators received an Excellence Award from the United States Department of Justice following the successful prosecution of a $780,000 fraud and money laundering case in Queens.
The honor for Tax Department Investigator Jack Patterson followed the December 13 sentencing of tax preparer Salvatore Arena to 42 months in prison for scamming some 170 clients out of $780,000 they believed was being used to pay their taxes. Instead, Arena was pocketing the money for his own personal gain. He pleaded guilty in August to mail fraud, money laundering, and wire fraud.
"This award is well-deserved. Investigator Patterson and his colleagues at the department did exceptional work to uncover this egregious scheme and prevent more New Yorkers from being victimized," said New York State Commissioner of Taxation and Finance Michael Schmidt. "As this case demonstrates, we will use every tool at our disposal to prevent unscrupulous tax preparers from defrauding New Yorkers of their hard-earned income."
"We're extremely proud of the work done by Investigator Patterson and our team, in coordination with our law enforcement partners in the DOJ, to help develop the case and gather the evidence needed to secure a guilty plea," said New York State Tax Department Director of Internal Affairs Brian Hickey. "The recognition from DOJ is greatly appreciated."
"I'm grateful for the recognition but bringing tax criminals to justice is really a team effort," said Tax Department Internal Affairs investigator Jack Patterson, lauding the support from his colleagues at the Tax Department and from federal, state, and local law enforcement partners.
In the case, Arena offered clients tax preparation and payment services. Instead of making payments for his customers, he siphoned client money for his own use.
Tax Investigator Patterson, working alongside DOJ investigators, uncovered how the illegal scheme worked. Between January 2014 and March 2019, Arena would divert tax prepayments to his own tax account and claim bogus refunds later. He also brazenly stole tax payments clients had wired into a bank account that he controlled.
In addition to the 42-month prison sentence, Arena was ordered to pay restitution of more than $726,000. He is expected to report to prison on March 1, 2020.
Investigator Patterson has been with the Tax Department for 5 years and has 15 years working in law enforcement.
###
Updated: