More Than 955 Cartons of Untaxed Cigarettes, Counterfeit Tax Stamps, and Cash Seized from East Syracuse Storage Unit
Syracuse man faces multiple felonies, including Criminal Tax Fraud
For Release: Immediate,
For press inquiries only, contact: James Gazzale, 518-457-7377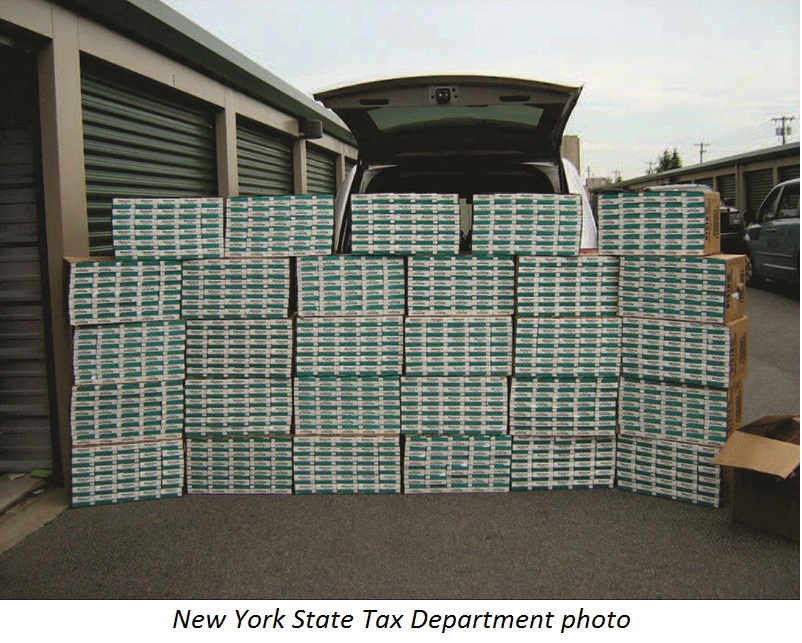 The New York State Department of Taxation and Finance today announced felony charges against Belal Alshamiri, 29, of 753 James Street, Apartment 927, Syracuse, following an investigation into the distribution of untaxed cigarettes in Syracuse.
Tax Department investigators executed a search warrant at Alshamiri's storage unit, B&C Storage, 5991 Drott Dr., East Syracuse. They seized more than 955 cartons of contraband cigarettes, 85 counterfeit tax stamps, and more than $3,600 in cash from a storage unit and vehicle at that location. Town of Dewitt Police assisted in the execution of the warrant as well.
Hundreds of counterfeit Viagra pills, several bags of the stimulant Khat, and more than 1,400 packets of synthetic cannabis were also seized and turned over to New York State Police and DEA investigators.
Alshamiri was charged with felony Possession, Transport, or Sale of more than 30,000 Cigarettes, Criminal Tax Fraud, and Possession of a Forged Instrument. The Onondaga County District Attorney will prosecute this case.
"Those who evade our cigarette and tobacco products tax deprive communities and the state of revenue needed for vital services and put honest businesses at a competitive disadvantage," said New York State Commissioner of Taxation and Finance Michael Schmidt. "We will continue to work with all our law enforcement partners to root out tax fraud and bring those responsible to justice."
A criminal complaint is only an accusation; the defendant is presumed innocent until proven guilty.
Report fraud
You can report tax evasion and fraud online at the Tax Department's website or by phone at 518-457-0578. The information is kept confidential. The Tax Department promptly reviews each complaint and takes corrective action when appropriate.
###
Updated: