Peekskill Store Owner Charged with Possessing More than 8,000 Untaxed Cigars
Defendant Faces up to $20,000 in Penalties after Arrest by NYS Tax Department
For Release: Immediate,
For press inquiries only, contact: James Gazzale, 518-457-7377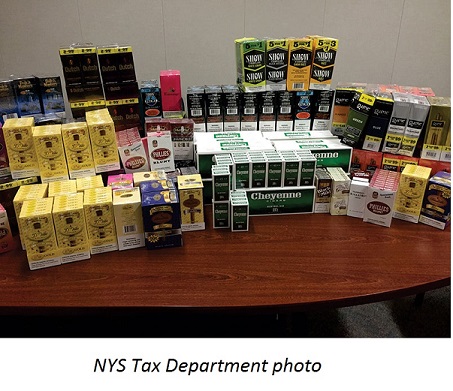 The New York State Department of Taxation and Finance today announced the arrest of a Peekskill store owner for allegedly possessing 8,303 untaxed cigars.
Abduljabar Aidhah, 35, operates Abuhamzah Deli, Inc., at 501 Highland Avenue. Investigators with the Tax Department's Criminal Investigations Division found the contraband cigars at the business location and charged Aidhah with one misdemeanor for violating tobacco-related tax laws. He faces up to $20,000 in penalties.
"Merchants who evade taxes deprive their communities and all New Yorkers of vital revenue, and put honest businesses at a competitive disadvantage," said Acting Commissioner Nonie Manion. "We'll continue to work with all our law enforcement partners to bring tax criminals to justice."
 
The defendant is due back in Peekskill City Court next month.
All cigars (and cigarettes) for retail sale in New York State must be purchased by a licensed distributor, and retail dealers must be in possession of purchase invoices showing that the taxes on these tobacco products have been paid.
A criminal complaint is only an accusation; the defendant is presumed innocent until proven guilty. The case will be prosecuted by the Westchester County District Attorney's Office.
Report fraud
You can report tax evasion and fraud online at the Tax Department's website or by calling 518-457-0578. The information is kept confidential. The Tax Department takes this type of illegal activity seriously, promptly reviews each complaint, and takes corrective action when appropriate.
###
Updated: