Capital Region Woman Charged with Possessing More Than 11,500 Untaxed Cigars and 1,400 pounds of loose tobacco
For Release: Immediate,
For press inquiries only, contact: James Gazzale, 518-457-7377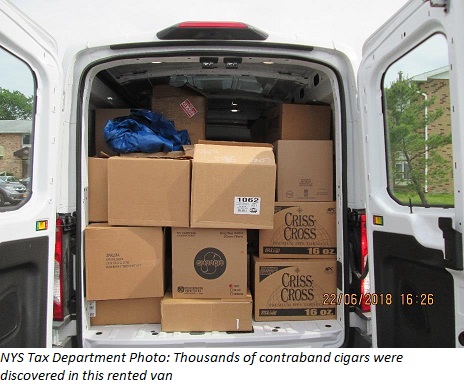 The New York State Department of Taxation and Finance today announced that a Capital Region woman has been arrested for allegedly possessing 11,573 untaxed cigars and 1,400 pounds of untaxed loose tobacco.
Priyanka Patel, 35, of 105 Hillcrest Village East, Niskayuna, is facing charges in both Niskayuna and St. Johnsville.
A New York State Tax Department Criminal Investigations Division team entered the defendant's business location, Hari Krishna Enterprise, Inc., at 18 East Main Street in St. Johnsville, to conduct a regulatory inspection and discovered that the business didn't have a valid Certificate of Registration to sell cigarette and tobacco products as required. The law enforcement officers at the scene seized 2,150 untaxed cigars along with about 389 pounds of tobacco.
Several days later, investigators uncovered an additional 9,423 contraband cigars, plus 1,021 pounds of untaxed tobacco in Niskayuna during a search of a van rented by the defendant.
"Criminals who deal in untaxed tobacco products deprive communities of revenue needed for vital public services, including social programs and anti-smoking initiatives," said Acting Commissioner Nonie Manion. "We'll continue to work with our partners in law enforcement to bring these criminals to justice."
Patel is expected to appear in St. Johnsville Town Court on July 25 to face misdemeanor charges of being in possession of more than ten pounds of untaxed tobacco and 500 untaxed cigars.
She's expected to appear in Niskayuna Town Court on August 1 to face a felony charge of attempting to evade state taxes on more than 440 pounds of tobacco. She is also expected to be charged with two related misdemeanors for possessing more than 50 pounds of untaxed tobacco or 2,500 untaxed cigars.
All tobacco products for retail sale in New York State must be purchased by a licensed distributor, and retail dealers must be in possession of purchase invoices showing that the taxes on the tobacco have been paid.
 
A criminal complaint is only an accusation; the defendant is presumed innocent until proven guilty. These cases will be prosecuted by the Schenectady County District Attorney's Office.
Report fraud
You can report tax evasion and fraud online at the Tax Department's website or by calling 518-457-0578. The information is kept confidential. The Tax Department promptly reviews each complaint and takes corrective action when appropriate
###
Updated: