More than 1,400 Cartons of Contraband Cigarettes Seized in Queens
Coordinated effort by multiple law enforcement partners also nets $73K in cash
For Release: Immediate,
For press inquiries only, contact: James Gazzale, 518-457-7377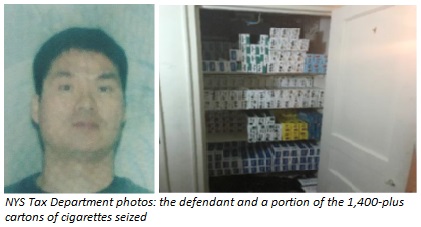 The New York State Department of Taxation and Finance today announced that an operation coordinated with multiple law enforcement partners has led to the seizure of 1,412 cartons of contraband cigarettes in Queens.
Along with the cigarettes, investigators also confiscated as evidence $73,531 in cash and one vehicle.
Injoon Bae, 49, of 195-15 67th Ave., Apt 1C, Fresh Meadows, Queens, was arrested on felony charges of 2nd-degree grand larceny and possession or transport for sale of more than 30,000 cigarettes.
The Tax Department's Cigarette Strike Force teamed with U.S. Postal inspectors, Homeland Security investigators, U.S. Customs and Border Patrol investigators, and the Queens District Attorney's Crimes Against Revenue Unit to search the defendant's home address as well as his vehicle.
Some of the cigarette packs carried a Virginia state tax stamp, but not a valid New York State or New York City cigarette tax stamp as required by NYS law; others appeared to be duty free and had no stamp. In addition to the criminal charges, the defendant faces fines of up to $600 per carton seized.
"Thanks to the sharing of intelligence and cooperation among multiple law enforcement agencies, more contraband cigarettes are off the streets," said Acting Commissioner Nonie Manion. "We will continue to work with federal, state, and local law enforcement agencies to arrest those who blatantly ignore the law."
Queens District Attorney Richard A. Brown said, "The illegal sale of untaxed cigarettes is a multi-million dollar industry that cheats both the city and state out of much needed tax revenue.  Schemes such as this one make every tax-paying citizen a victim. My office will continue to work diligently with our law enforcement partners to dismantle these types of illegal business ventures."
Bae was released on his own recognizance and scheduled to return to court on June 4, 2018. A criminal complaint is only an accusation; the defendant is presumed innocent until proven guilty. The cases will be prosecuted by the Queens County District Attorney's Office.
Report fraud
You can report tax evasion and fraud online at the Tax Department's website or by calling 518-457-0578. The information is kept confidential. The Tax Department promptly reviews each complaint and takes corrective action when appropriate
###
Updated: