Buffalo Resident Pleads Guilty to Four Felonies
Defendant, who operated downtown business, failed to pay $69,000 in sales tax
For Release: Immediate,
For press inquiries only, contact: James Gazzale, 518-457-7377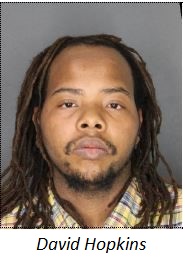 The New York State Department of Taxation and Finance today announced that the former operator of a Buffalo business has pleaded guilty to grand larceny and criminal tax fraud.
David Hopkins, 28, of 486 Adams Street, Buffalo, operated Shy's Downtown Steak Shop, located at 397 Jefferson Avenue. He appeared before Judge Russell Buscaglia in Erie County Court and pleaded guilty to second-degree grand larceny and three counts of third-degree criminal tax fraud, all felonies.
The defendant admitted to collecting $69,717 in sales tax from his customers during the years 2012 through 2016, but failing to remit the tax to the state as required by law.
Hopkins, released on his own recognizance, is expected back in court on November 8 to face a sentence of up to one year in jail. He signed a court order agreeing to repay New York State the full amount of sales tax owed. He'll also be assessed an additional fine for penalty and interest following his sentencing.
 
"When businesses fail to remit the sales tax collected from customers, as in this case, they deprive the state and the communities where they operate of revenue needed for vital services, and put honest merchants at a competitive disadvantage," said Acting Commissioner Nonie Manion. "We will continue to work with our partners in law enforcement to bring those who disregard their tax obligations to justice."
The New York State Tax Department's Criminal Investigations Division investigated the case, and the Erie County District Attorney prosecuted it.
The department's Tax Bulletin Sales by Restaurants, Taverns, and Similar Establishments (TB-ST-806) explains when the sales of food and beverages (both alcoholic and nonalcoholic) made by restaurants, taverns, and other similar establishments are subject to sales tax.
Report fraud
You can report tax evasion and fraud online at the Tax Department's website or by calling 518-457-0578. The information is kept confidential.
###
Updated: