Billions in Valuable Tax Credits Available to New Yorkers
Don't miss out on the credits you deserve; review your eligibility for earned income tax credits that can boost refunds by more than $8,500 this tax season
For Release: Immediate,
For press inquiries only, contact: James Gazzale, 518-457-7377
The New York State Department of Taxation and Finance and the New York State Office of Temporary Disability Assistance (OTDA) today reminded New York State taxpayers to check their eligibility for the earned income tax credit (EITC). EITC Awareness Day is today, January 26.
The EITC can reduce the amount of taxes owed or provide a substantial tax refund, potentially worth several thousand dollars for lower-income workers.
EITCs are refundable federal, New York State, and New York City credits for working taxpayers. For tax year 2017, the maximum total of federal, state, and New York City EITCs is $8,529 (for a family with three children). Income criteria is shown in the chart below.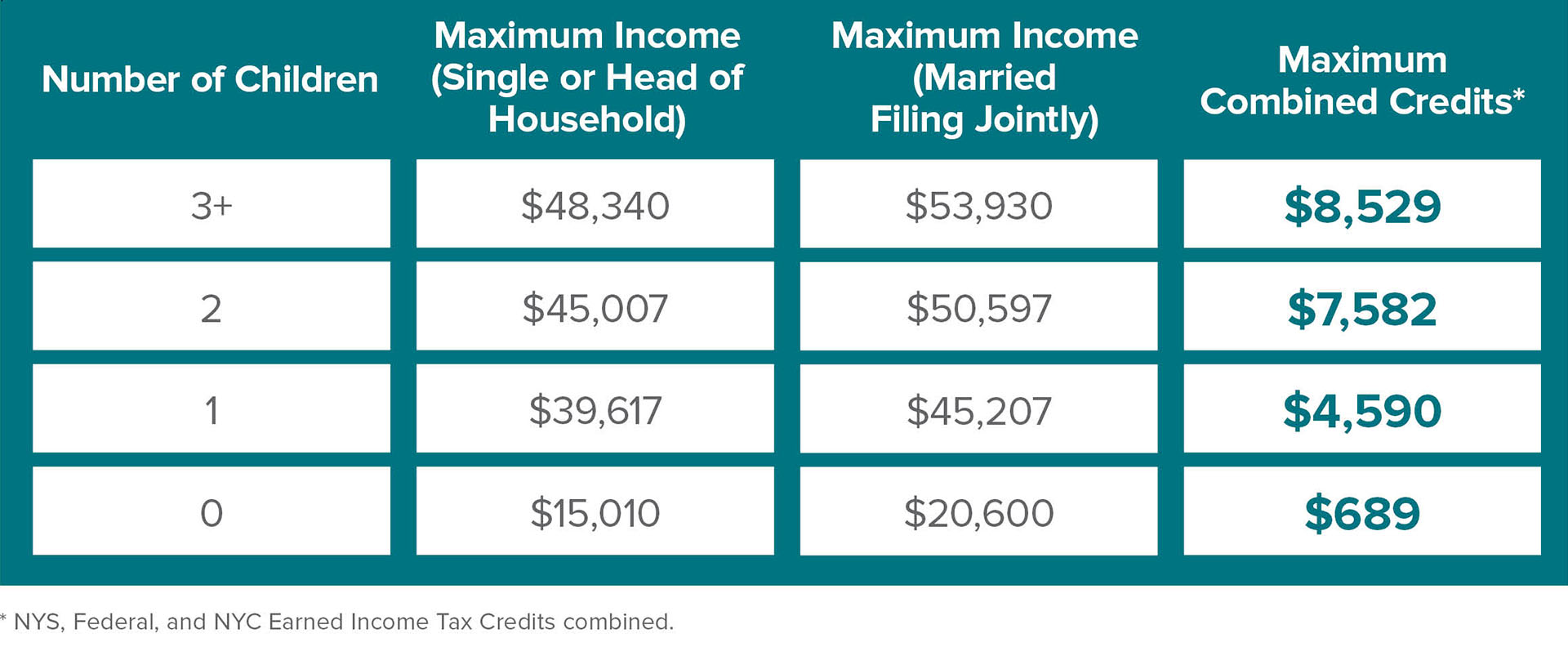 To view regional EITC data, visit Earned Income Tax Credits: Tax year 2015 Data.
"Taxpayers have, as the credit's name implies, earned this benefit, so we urge all New Yorkers to check their eligibility and claim what they're due," said New York State Acting Commissioner of Taxation and Finance Nonie Manion. "Earned income tax credits are a financial lifeline for many, providing money to pay rent, groceries, energy bills, and other daily expenses."
"The EITC can significantly boost the bottom line for eligible working families and individuals, giving them greater financial flexibility," said Office of Temporary and Disability Assistance Commissioner Samuel D. Roberts. "The EITC is a tremendously effective tool that helps lift working households out of poverty and toward economic independence."
In tax year 2015, more than 1.83 million New Yorkers received the federal EITC. When the federal, New York State, and New York City benefits were combined, the benefit to working families and individuals was more than $5.4 billion with an average benefit of more than $2,950 per household.
Check eligibility requirements each year
Each year, thousands of New Yorkers qualify for the EITC for the first time as their filing status or personal financial situation changes. The IRS estimates that nearly 400,000 eligible New Yorkers fail to claim these valuable credits.
In addition to the specific income requirements, taxpayers must meet other criteria such as:
earn wages from employment or self-employment;
have a valid Social Security number;
have a qualifying child living with them for more than half the year, or, if they don't have a qualifying child, be at least 25 years of age and under age 65; and
have investment income of less than $3,450.
Taxpayers must also file a tax return, even if they don't owe any tax or aren't otherwise required to file. Those eligible who prepare their returns electronically will be automatically prompted to claim this credit and others. Those who were eligible in previous years but didn't claim the credit may still be able to submit an amended income tax return for up to three years.
The Tax Department also reminded those ineligible for EITC benefits to look for other possible tax credits that they might be eligible to claim, such as the child and dependent care credit.
Noncustodial parent earned income tax credit
In 2006, New York State became the first state in the nation to enact a noncustodial parent EITC. The refundable credit is one of the many ways the state encourages low-income noncustodial parents to work and stay current with their child support payments.
In 2015, over 6,700 taxpayers claimed the noncustodial parent EITC, totaling almost $3.4 million in taxpayer benefits.
For more information
• Federal Earned Income Tax Credit
• New York State Earned Income Tax Credit
• Recordkeeping suggestions for self-employed persons
• Contact a NYS Tax Department representative at (518) 457-5181
###
Updated: