Take Advantage of Black Friday Savings with NYS Sales Tax Exemptions
Holiday shoppers are never charged NYS sales tax on clothing and footwear sold for less than $110
For Release: Immediate,
For press inquiries only, contact: James Gazzale, 518-457-7377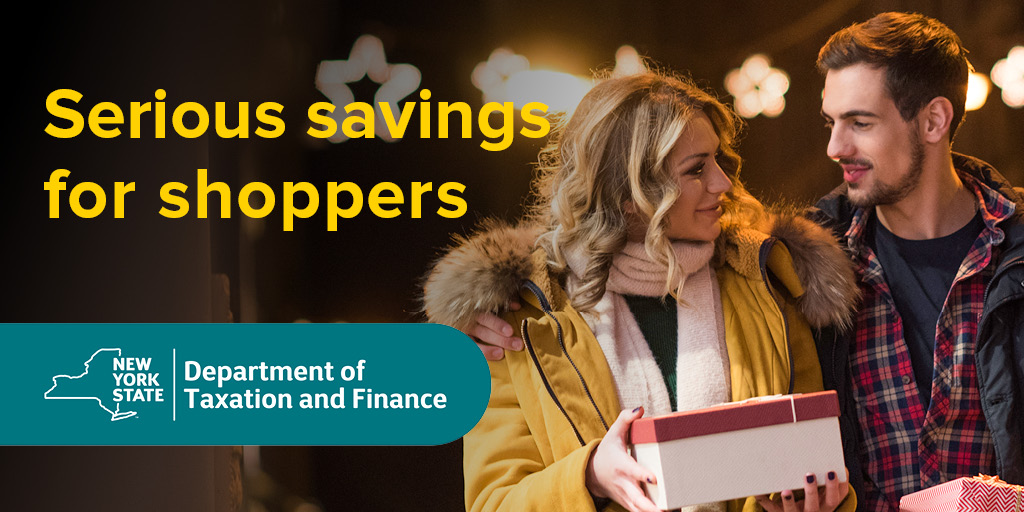 The New York State Department of Taxation and Finance is reminding holiday shoppers of the tax breaks on purchases of clothing and footwear sold for less than $110.
"The holiday shopping season is always a bit more affordable in New York State thanks to the year-round sales tax exemption on clothing and footwear items sold for less than $110," said Acting Commissioner Nonie Manion. "These savings on sales tax can add up and make a difference during the holiday rush."
Sales tax exemption on clothing and footwear
Every day is a sales tax holiday in New York State. Qualifying clothing and footwear purchases are always exempt from the state's 4% sales tax when they are sold for less than $110.
They're also exempt from local sales tax year-round in New York City and the eight counties listed below. If a locality doesn't provide the exemption, tax will be charged at the local rate only.
In 2018, the state exemption alone is expected to save New York shoppers more than $850 million. Savings from the combined state and local sales tax exemptions are about $1.3 billion annually.
New York City and the following counties don't charge sales tax on clothing and footwear purchases under $110:
Chautauqua
Chenango
Columbia
Delaware
Greene
Hamilton
Tioga
Wayne
For more information
Clothing and Footwear Exemption
###
Updated: