183 Cartons of Contraband Cigarettes Seized in Queens
Coordinated effort by multiple law enforcement partners also nets $18K in cash
For Release: Immediate,
For press inquiries only, contact: James Gazzale, 518-457-7377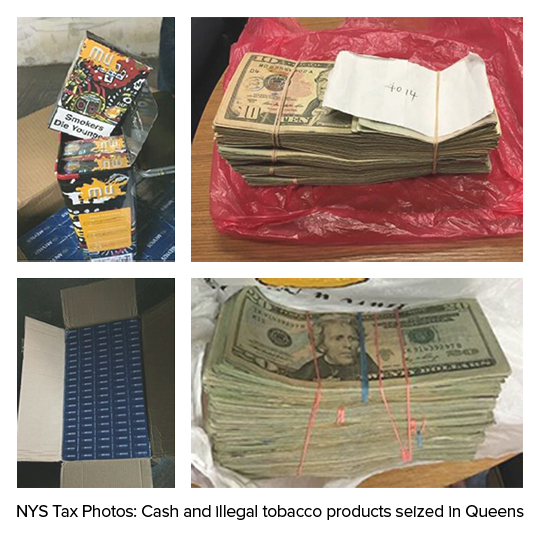 The New York State Department of Taxation and Finance today announced the seizure of 183 cartons of contraband cigarettes shipped to an address on Northern Boulevard in Queens. Investigators also confiscated $18,014 in cash as evidence.
Minyan Zhu, 30, of 54-43 80th Street in Queens, was arrested and charged with one felony for attempting to evade or defeat NYS and New York City cigarette taxes.
The Tax Department's Cigarette Strike Force, teaming with the Queens District Attorney's Office and other law enforcement agencies, conducted surveillance of the defendant and observed him loading three parcels into a vehicle. The defendant was followed by DA investigators, stopped a short time later and found to be in possession of the untaxed cigarettes.
"Thanks to the sharing of intelligence and cooperation among multiple law enforcement agencies, more contraband cigarettes are off the streets," said Acting Commission Nonie Manion. "We will continue to work with these partners to arrest those who blatantly disregard the law."
Queens District Attorney Richard A. Brown said, "The sale of untaxed cigarettes is an illegal business venture that cheats the city and state out of much needed tax revenue. As a result, tobacco bootleggers make victims of honest taxpayers by forcing them to dig deeper into their own pockets in order to pay higher taxes and make it impossible for legitimate businesses to compete. We will continue to work with our law enforcement partners to hold accountable those who allegedly orchestrate these kinds of schemes."
Zhu was released on his own recognizance. A follow-up court date has not been set. A criminal complaint is only an accusation; the defendant is presumed innocent until proven guilty. The cases will be prosecuted by the Queens County District Attorney.
Report fraud
You can report tax evasion and fraud online at the Tax Department's website or by calling 518-457-0578. The information is kept confidential. The Tax Department promptly reviews each complaint and takes corrective action when appropriate.
###
Updated: