Hundreds of Cartons of Contraband Cigarettes Seized in Seneca County
Massachusetts man also charged with transporting 208 pounds of untaxed tobacco
For Release: Immediate,
For press inquiries only, contact: James Gazzale, 518-457-7377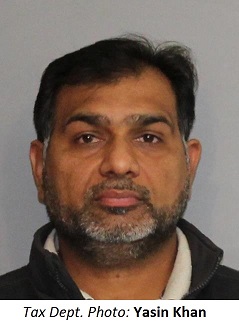 The New York State Department of Taxation and Finance today announced the seizure in Seneca County of 210 cartons of contraband cigarettes, as well as 208 pounds of loose, untaxed tobacco.
Yasin Khan, 39, of 356 Park Street, West Springfield, MA, was arraigned before Judge Kathy Jans-Duffy in the Town of Tyre Court. He was charged with criminal tax fraud and the possession and transport of more than 30,000 unstamped cigarettes, both felonies. He also was charged with transporting more than 50 pounds of tobacco, a misdemeanor.
The cigarette packs carried a Kentucky tax stamp, not a New York State cigarette tax stamp as required by law. In addition to the criminal charges, the defendant faces fines of up to $600 per carton seized.
Khan's vehicle was stopped by State Police. Tax Department criminal investigators from the Syracuse office were alerted and made the arrest after confirming that the cigarette packs carried a Kentucky tax stamp, not a NYS cigarette tax stamp as required by law.
"Let this be a warning to those from out of state who attempt to smuggle contraband cigarettes anywhere in New York," said Acting Commissioner Nonie Manion. "Law enforcement organizations across the state are dedicated to helping us bring such criminals to justice."
Khan was released on $2,000 bail and is expected back in court December 20.
A criminal complaint is only an accusation; the defendant is presumed innocent until proven guilty. The case will be prosecuted by the Seneca County District Attorney.
Report fraud
You can report tax evasion and fraud online at the Tax Department's website or by phone at 518-457-0578. The information is kept confidential. The Tax Department promptly reviews each complaint and takes corrective action when appropriate.
###
Updated: