Brooklyn Bust – 2,700 Cartons of Contraband Cigarettes Seized
Virginia man charged with three tax-crime felonies
For Release: Immediate,
For press inquiries only, contact: James Gazzale, 518-457-7377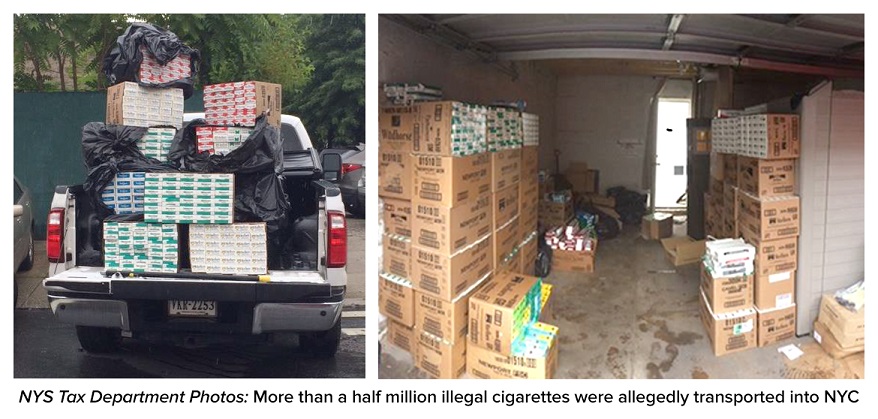 The New York State Department of Taxation and Finance today announced the seizure of 2,701 cartons of contraband cigarettes in Brooklyn.
The  cartons, discovered in a personal vehicle under surveillance and in a garage, had official Virginia tax stamps but not the New York State and New York City tax stamps required by law.
NYS Tax Department Cigarette Strike Force investigators arrested Derar Hajjat, 30, of 4161 School Street, Chincoteague, VA. The defendant was charged with three cigarette tax-related felonies, including the possession and transport of more than 30,000 unstamped cigarettes. Hajjat was released on his own recognizance. A court date has yet to be scheduled.
In addition to the criminal charges, the defendant faces fines of up to $600 per carton seized.
"This arrest, conducted with the help of New York Police Department detectives, should serve as a warning to those who traffic in contraband cigarettes," said Acting Commissioner Nonie Manion. "We'll continue to work with NYPD—and all our law enforcement partners—to ensure that those who ignore state tax laws are brought to justice."
A criminal complaint is only an accusation; the defendant is presumed innocent until proven guilty. The case will be prosecuted by the Kings County District Attorney.
Report fraud
You can report tax evasion and fraud online at the Tax Department's website or by calling 518-457-0578. The information is kept confidential. The Tax Department promptly reviews each complaint and takes corrective action when appropriate.
###
Updated: