Malta Man Arrested for Transporting Contraband Cigarettes
230 Cartons of pre-rolled cigarettes in "baggies" seized in Franklin County
For Release: Immediate,
For press inquiries only, contact: James Gazzale, 518-457-7377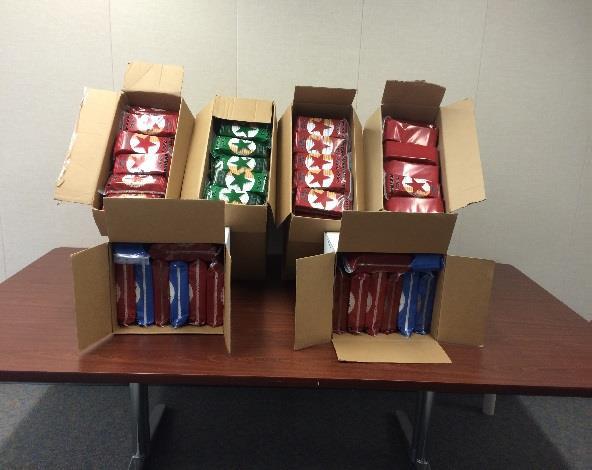 Tax Department Photo: "Baggies" of pre-rolled cigarettes seized in Franklin County
The New York State Department of Taxation and Finance today announced the seizure in Franklin County of 230 cartons of contraband cigarettes, pre-rolled, packaged in "baggies," and ready for sale.
Vincent C. Cheung, the alleged trafficker of the cigarettes, was arrested. He appeared before Judge Edwin Andrew in Westville Town Court for arraignment and, awaiting a preliminary hearing, was remanded to Franklin County Jail.
Cheung, 35, of 291 Route 9, Malta, was in a vehicle stopped by the US Border Patrol. Agents searching the vehicle discovered the pre-rolled cigarettes, which did not have New York State cigarette tax stamps as required by law. They alerted the Tax Department's criminal investigators, who made the arrest.
The defendant was charged with the possession and transport of more than 30,000 unstamped cigarettes, a felony. In addition to the criminal charges, Cheung faces fines of up to $600 per carton seized.
"Thanks to cooperation from the US Border Patrol, more contraband cigarettes are off the streets," said Acting Commissioner Nonie Manion. "We will continue to work with these partners to arrest those who blatantly disregard the law."
A criminal complaint is only an accusation; the defendant is presumed innocent until proven guilty. The case will be prosecuted by the Franklin County District Attorney.
Report fraud
You can report tax evasion and fraud online at the Tax Department's website or by phone at 518-457-0578. The information is kept confidential. The Tax Department promptly reviews each complaint and takes corrective action when appropriate.
###
Updated: