Three Capital Region Residents Face Felony Charges Following Two Separate Busts for Untaxed Tobacco Products
Investigators seize nearly 3,000 cigars, more than 610 cartons of illegal cigarettes, dozens of cell phones, and nearly $75,000 in cash on consecutive days
For Release: Immediate,
For press inquiries only, contact: James Gazzale, 518-457-7377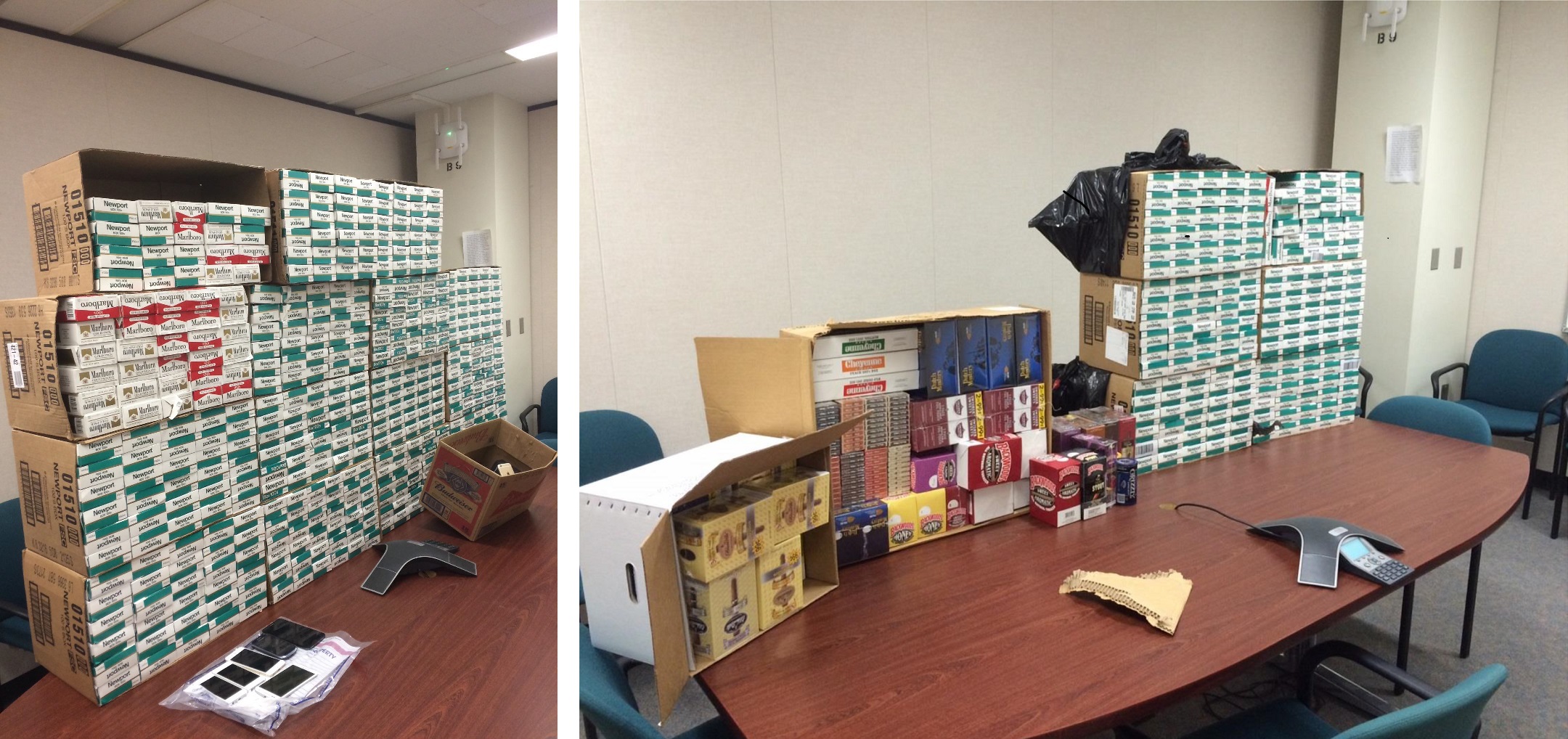 Tax Department photos:
LEFT: Cigarettes and electronics seized in Albany (1/31/17)
RIGHT: Cigarettes and cigars seized in Albany (2/1/17)
The New York State Department of Taxation and Finance today announced the arrest of three Capital Region men following two separate operations on Tuesday, January 31, and Wednesday, February 1.
Albany cigarette bust
Two Albany men were charged with possession of 30,000 or more untaxed cigarettes, a felony.
On Tuesday, January 31, Strike Force investigators arrested Khaled A. Hadi, 54, and Rafat K. Hadi, 23, both of 46 Ontario St., Albany, NY, after seeing them unload large black plastic garbage bags containing what appeared to be boxes of cigarettes.
Search warrants were executed on Khaled Hadi's vehicle and at 46 Ontario St. Market, a store run by Khaled Hadi. Investigators also searched an apartment above the store where he lives.
In total, investigators seized more than 438 cartons of untaxed cigarettes, $74,800 in cash, 39 smart phones, five iPads, one vehicle, one safe, and other documents belonging to Khaled Hadi.
Albany cigar bust
On Wednesday, February 1, Strike Force investigators arrested Nooradden Al Harbi, 35, of 7318 Oak Hill Circle, Rensselaer, after watching him unload tobacco products at the corner of Lark Street and Clinton Avenue in Albany. Upon inspection, the products were determined to be illegal.
Investigators found Al Harbi in possession of 2,292 untaxed cigars, 173 cartons of unstamped cigarettes, 12 ounces of tobacco, and 50 tobacco wraps. He's charged with possession of 30,000 or more untaxed cigarettes, criminal tax fraud—both felonies—and possession of more than 750 untaxed cigars, a misdemeanor.
A criminal complaint is only an accusation; the defendants are presumed innocent until proven guilty.
"Our Strike Force investigators are diligently working to root out tobacco tax evasion in all corners of the state, conducting their own operations and in coordination with our partners in law enforcement," said Acting Commissioner Nonie Manion.
Report fraud
You can report tax evasion and fraud online at the Tax Department's website or by calling 518-457-0578. The information is kept confidential. The Tax Department takes this type of illegal activity seriously, promptly reviews each complaint, and takes corrective action when appropriate.
###
Updated: